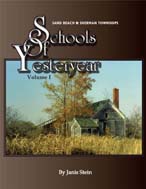 Schools of Yesteryear, Volume I, contains the detailed histories of 15 one-room schoolhouses in Sand Beach and Sherman Townships in Huron County, Michigan.
Hardcover, 214 pages, and over 400 images.
"At one time over 7,000 one-room schoolhouses (along with farmhouses and barns) were the landmarks of rural Michigan. One by one, the schools closed so that now only about 20 one-room schools are still operating at the present time. We not only commend Janis Stein but also thank her for researching and preserving the history of one-room schools in Huron County before the fog of history blots out all knowledge of them."
William Winglar
President, Michigan One-Room Schoolhouse Association
$29.99 +Shipping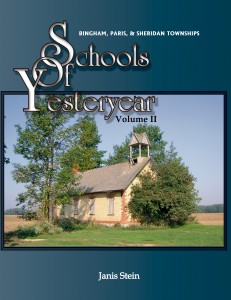 Schools of Yesteryear, Volume II, is a comprehensive study of 14 rural schoolhouses in Bingham, Paris, & Sheridan Townships in Huron County, Michigan. Click here for a complete indexed list of names in Schools of Yesteryear, Volume II.
Hardcover, 320 pages, and over 400 images.

Recipient of 2014 State History Award from the Historical Society of Michigan!
"Schools of Yesteryear, Volume II is yet another delightful book of oral and factual history of one-room schools in Huron County, Michigan. Janis Stein's superb, in-depth research brings to life the story of the early education system in Huron County at the turn of the 20> century.  The Huron County Historical Society is once again pleased to place Stein's second schoolhouse book in our collection and recommend it to others for a charming visit to our schools of the olden days."
Huron County Historical Society
$39.99 + Shipping

Schoolhouse Bundle Special
Get both Schoolhouse Books for one low price!
$55.00 + Shipping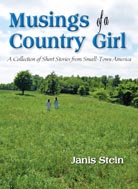 "I turned the pages of Janis Stein's Musings of a Country Girl with the same delight that I listen to any of Garrison Keillor's Lake Wobegone radio tales. Living in the country, it seems, is no different from living in the city (whether a small one or a large one): there's adventure and heartache, curiosity and tenderness—many times all at the same time. Janis's stories remind me why each day is precious and life is so very sweet!"
Mimi Bell
Editor, Great Lakes Bay (Regional Lifestyle Magazine)
$16.96 + Shipping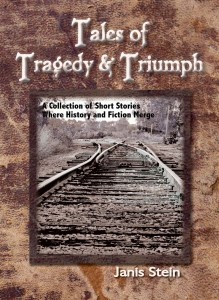 "Tales of Tragedy and Triumph is a series of stories, beautifully written, relating the life and times of pioneer family members in Michigan's Thumb region. The author draws you into family relationships depicting life in a one-room cabin, hobos riding the rails, sibling rivalry, conflicts, adversity, and survival. Janis has created, through her research, the most real depictions of family life from the 1870s to the 1930s. The 1871 and 1881 forest fires have been uniquely woven into one family story, making history come alive."Janis's development of characters and descriptive moments of events is realism at its best. If you liked reading Mark Twain's Adventures of Tom Sawyer or Huckleberry Finn, you will love Tales of Tragedy and Triumph!"
Al Eicher
Historian, author, and television documentary producer
$16.96 + Shipping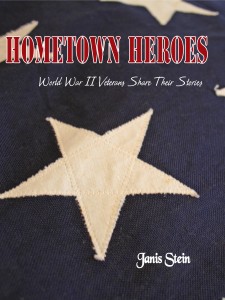 Hometown Heroes: World War II Veterans Share Their Stories features the biographical experiences of 24 men and women largely from Michigan's Huron and Sanilac Counties who fought and served in World War II. From serving in support roles to fighting bloody battles on the front lines and witnessing the mass graves and atrocities Hitler imposed to surviving life in a POW camp, World War II veterans made unimaginable contributions and sacrifices. It is this greatest generation that Hometown Heroes strives to honor. Click here for the list of veterans featured in Hometown Heroes.
Paperback, 276 pages and over 400 images.
"The book Hometown Heroes documents the lives of men and women from the Thumb area of Michigan that shaped our country and reinforced the foundation of our local communities. I find it incomprehensible to imagine what our world would be like without these men and women who left their quiet lives, donned the uniforms of our country, and without the benefit of foresight, established hope in a world of despair…Too many stories have already been forever lost. This book reminds us not of those with movie star status but of the rank and file with whom all hope rested…"
Terry L. Brown, Pigeon, Michigan
Former Majority Vice Chair, Military and Veterans' Affairs, Michigan House of Representatives
$25.00 + Shipping
Books Co-Authored by Janis Stein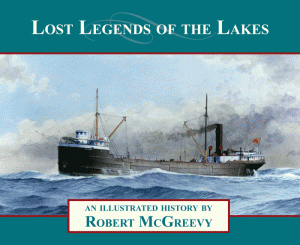 Lost Legends of the Lakes
By artist Robert McGreevy, co-authored by Janis Stein
Lost Legends of the Lakes is a unique study of the maritime heritage of the Great Lakes from an artist's viewpoint. This classic work features over 50 paintings and drawings of Great Lakes ships starting with the Griffon and ending with the Edmund Fitzgerald. Lost Legends of the Lakes is a carefully researched, illustrated and written chronicle of our freshwater history.
Hardcover, 144 pages, and over 50 color illustrations.
Now available in softcover.
Hardcover Book $45.05 + Shipping
Softcover Book $19.95 + Shipping
Books Edited by Janis Stein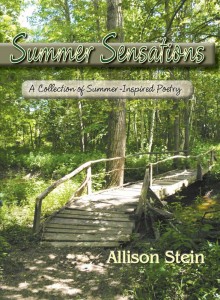 Summer Sensations
by Allison Stein
Summer Sensations is a collection of summer-inspired poetry; the poems within reflect the poet's love of summer, of nature, and all of its colorful offerings, and it is there, outside, where she finds her greatest inspiration. The writer hopes her poems will inspire you to recall your own summer memories when the days seemed endless and peaceful summer nights warmed your heart.
$8.00 + Shipping
Spring Fever is a collection of spring-inspired poetry that reflects the poet's anticipation of nature's revival and spring's glorious arrival: snow melting, flowers budding, and birds returning from their wintry escape. Through her words, the writer will inspire you to recall your own memories of a season when hope flourishes.
$8.00 + Shipping
Poetry Bundle Special
Get Summer Sensations and Spring Fever for one low price!
$14.00 + Shipping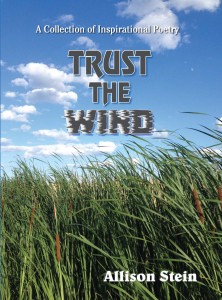 Trust the Wind
by Allison Stein
Trust the Wind is a collection of inspirational poetry that reminds readers to follow the compass of faith and to channel the truths inscribed in their own hearts. Poet Allison Stein says, "Learning to trust the wind again has set my soul free. Let the breath of God carry my heart. I'll get where I need to go."
$8.00 + Shipping
Ordering by Standard Mail:
To order by standard mail, please contact us.
To Subscribe to The Lakeshore Guardian, click here.